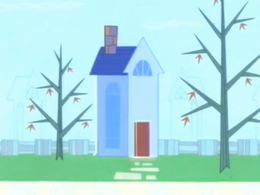 Abe's House is the home of Abe Lincoln.
Biography
In "Episode Two: Election Blu-Galoo", Abe was in his room, banging his head against the threshold, thinking he was losing the school election.
In "Sleep of Faith: La Ru D'Awakening", Joan and Gandhi held an intervention for him, when he got home, telling him he needed to sleep. Abe went to his room and while Joan thought he was sleeping, she sat in the living room with Gandhi, watching American Pie.
In "Plane Crazy: Gate Expectations", Abe sat in his room and made an angry phone call to Cleo about her not wearing the jacket he gave her.
In "Raisin the Stakes: A Rock Opera in Three Acts", Abe came home and his mom and dad told him they found raisins in his pocket, to which he denied having anything to do with. Later on, Abe's parents grounded him in his room, before he fled the house.
In "Litter Kills: Litterally", although it didn't appear, it was mentioned when Abe gave Cleo his car keys and told her to drop his car off at his house, after she was done comforting JFK.
In "Snowflake Day: A Very Special Holiday Special", Abe sat down in his room and worked for hours, making a Snowflake Day gift for Cleo, that came from the heart.
In "Changes: The Big Prom: The Sex Romp: The Season Finale", Abe went into the living room to ask his dad, whether he should date Cleo or Joan.
Residents
Episode Appearances
Gallery