Clone High in Outside Media consists of cameos, mentions, and references to Clone High in outside media. As such a short lived series, Clone High is only really referenced in other shows and movies produced by Phil Lord, Bill Lawrence, and Christopher Miller.
Into the Spider Verse
There was a billboard advertising a Clone High movie, titled "Clone College", with pictures of Abe Lincoln and JFK on it. This was hidden in the film, mainly because Clone High's show creators, Phil Lord and Christopher Miller took part in writing Into the Spider Verse. Despite "Clone College" being released by Sony Pictures Releasing under the Columbia Pictures, Clone High is actually owned by Disney, ViacomCBS (parent company of network MTV), and Corus Entertainment (owner of Teletoon).
The LEGO Movie
The Lego version of Abraham Lincoln is voiced by Will Forte, just like Abe Lincoln from Clone High.
Nostalgia Critic
In the video review of "Where The Wild Things Are", a clip from Clone High is featured. This would be from the episode "Film Fest: Tears of a Clone", where the audience gave a underwhelming, indifferent reaction to Joan of Arc's independent film, The Truth Wears Sideburns.
Video Link: "What's Up With Where the Wild Things Are?".
Scrubs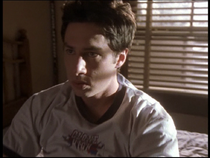 In the episode "My First Day", J.D. is wearing a Clone High shirt. This was in the first frame of the first episode, but only appeared on screen for a split second.
In the episode "My Finale", it's revealed that the long unnamed janitor's full name is "Glenn Matthews". In the Clone High episode, "Litter Kills: Litterally", a janitor by the same name, was voiced by Neil Flynn, which is where Bill Lawrence got the idea from.
Total Drama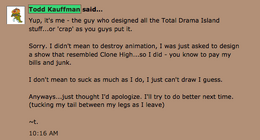 Total Drama's animator, Todd Kauffman confirmed that the show's animation style is based off of that of Clone High's. Coincidentally, Kauffman did some designs for Clone High's opening sequence.